Product ID : 9781480856868
Combating Dementia in Thirty Days: Everything You Must Know to Keep Your Brain Sharp and Plan Your Future Right
Description
COMBATING DEMENTIA IN 30 DAYS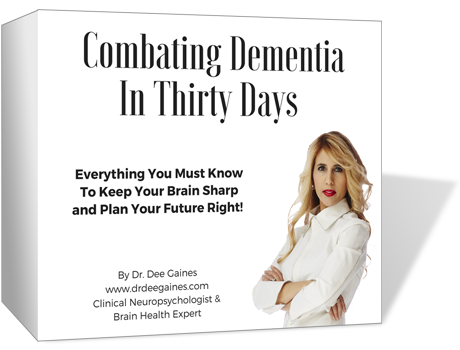 Evidence and Research Based Psycho-Educational Videos and Instructional Book
COPYRIGHTED © 2017 K. Drorit Gaines, Ph.D. (author)
A product of Heila Productions, Inc.


The affordable way to take control of your cognitive aging.
In 30 short videos (approximately 5 minute long), along with a hands-on manual, Dr. Dee Gaines takes you through the most important and fundamental knowledge you must have when you suspect cognitive decline in you or your loved one, or when the diagnosis of dementia was provided.
From memory strategies, to eating habits, mental health, and family care, these videos are designed to help you have the knowledge and tools to work with your medical team, and combat dementia.


CHAPTERS

"COMBATING DEMENTIA IN 30 DAYS - INTRODUCTION"


"UNDERSTANDING YOUR BRAIN - COGNITIVE AREAS"

"THE AGING BRAIN"

"NEW EXPERIENCES"

"FAMILY RELATIONSHIPS AND HEALTH"

"STRESS AND COGNITIVE AGING"

"HEALTHY EATING PART 1: YOUR EATING MINDSET"

"HEALTHY EATING PART 2: INTRODUCTION TO SUGAR"

"HEALTHY EATING PART 3: PROTEINS"

"LOVE AND BRAIN HEALTH"

"HUMOR AND THE BRAIN"

"MENTAL HEALTH AND COGNITIVE DECLINE"

"HEALTHY EATING PART 4: CARBOHYDRATES"

"HEALTHY EATING PART 5: SPICES FOR YOUR BRAIN"

"HEALTHY EATING PART 6: FATS"

"HEALTH RISKS DUE TO POOR EATING HABITS"

"HEALTHY EATING PART 7 CLEAN AND FRESH FOOD"

"HEALTHY EATING PART 8 EXCELLENT EATING HABITS"

"PERSONALITY CHANGES AND COGNITIVE DECLINE"

"MANAGING FAMILY CARE"

"TAI CHI AND THE BRAIN"

"TAI CHI DEMONSTRATION"

"MEMORIZATION TECHNIQUES"

"INFECTIONS"

"MEDICATIONS FOR DEMENTIA"

"CAREGIVING"

"REMINISCENT THERAPY"

"COGNITIVE SKILLS FOR DEMENTIA"

"SPIRITUALITY AND MORE"

"COMBATING DEMENTIA IN 30 DAYS - SUMMARY AND CONCLUSIONS"